"Maire's Special Crew"
We were honored to have joining us to represent the cancer community these brave souls who fought courageously their own deadly form of cancer.The photos you see here had been placed inside the hull of Maire's boat. Their names were painted on the outside of the sailing vessel by Odawa artist Tom Teuthorn.

We thank the families who have embraced this story.

George Carver Davis
June 22, 1944 - September 17, 2013
A beloved husband, father, grandfather and friend, suffered a courageous four-year battle against cancer. Born in Hillsboro, AL on June 22, 1944, the son of a farmer, George came from very humble beginnings, even picking cotton as a child. He went on to earn a PhD in Mechanical Engineering from the University of Michigan. George had an illustrious career of 31 years at Ford Motor Company, earning numerous awards and patents, before retiring in 2008. While staying dedicated to his family, George also remained a dedicated man of God, serving as an Elder in the Ypsilanti Seventh Day Adventist Church. George never lost his love of the outdoors, and prided himself on having just the right accessory for whatever his need was. This ranged from numerous "safari" vests with multiple pockets for stashing his gadgets and necessities, a boot for whatever the need, from waders to hikers to rain boots. There was a hat for every occasion, ranging in price and style from cashmere fedora Stetsons, to straw Panamas, mosquito netted gardening hats, to the latest winning sports team cap from Detroit! He enjoyed gardening, riding his tractor/lawnmower, picking blackberries from his own yard. He also loved math and science of all types.George lost his battle with myxofibrosarcoma on September 17, 2013. He is lovingly remembered and deeply missed by his wife Stacy, his children George II, Erika, Katherine, Jasmine and Michael, grandchildren, Omar, Kamaria, and Michael II.


Gina Gerow
Gina, daughter of Karen Gerow, was an incredibly spirited and beloved high school senior. Any of those who got to know her- found her to be quite an inspiration and we all miss her.

Gillian "Gilly" Robert Gibbons
April 20, 2000 - March 1, 2012
Gilly....Son, Brother, Grandson, Cousin, Nephew & Best Friend. A true warrior whose spirit lives on! Diagnosed with Synovial Sarcoma at the age of 5 he went to the battlefield ready to fight! He continued to amaze us, setting an example of courage & faith unlike anything we could ever imagine. Teaching us how to be brave & strong. He faced his fears....a child pushed into adulthood! His life...was lived! He lives on... in the memories of all that knew him. Forever in our hearts....forever in the arms of God....forever an angel among us. May his spirit be a guiding light as Maire's journey continues to the sea!

Dawn Marie Burns
April 23, 1969 - July 7, 1995
Young and beautiful. Talented and Spirited. Dawn faced cancer with grace and courage. Her cancer challenge lasted two years. She fought through surgery, treatment, clinical trials, and the knowledge that death was not to be avoided. She taught us about living and she taught us about dying. Her last wish – that we find a cure and fight for that cause so a difference could be made. My promise as a mother to her – to begin Friends Together so no one would go through the cancer experience alone. Dawn's journey began in 1969 – it continues today with Maire. May Dawn be your companion on this leg of your journey, Maire. May she invite you into that spiritual presence …..your journey has not ended……it has just begun.May you both feel the love of your loved ones behind... and the love of the opening world before you.

Nic Sotelo
Passed away June 28, 2012
Nic was diagnosed with Leiomyosarcoma at age 28 and passed away at age 32. His tumor started in the left atrium of his heart and then spread to his brain and abdomen. Nic had 2 small boys. He was also treated by Dr. Chugh at the U of M Sarcoma center. Here is Nic's site where you can learn a little bit about his Journey.
www.caringbridge.org/visit/nicholassotelo.

Kelli Lynn Lambert
Passed away December 29, 2012
Kelli was diagnosed with a very rare cancer in her heart called "leiomyosarcomoa" on April 1, 2006 at the age of 31 and passed away at her home in Onsted, MI on December 29, 2012 at the age of 37. She was a graduate of Michigan State University and earned her Degree in Optometry at the Illinois College of Optometry. She was extremely dedicated to her profession. She was an inspiration to all who knew her and her personality and love for all showed brightly in her beautiful smile. She will always be remembered as a beautiful person… inside and out.


Beverly Ann Brown
Beverly, aunt of Karen Clark, died of pancreatic cancer at the age of 53.


Carolyn Blumhardt
Carolyn fought lymphoma in the 70s with chemotherapy treatments. She was a lively, happy person that lost her fight at the age of 19.

Gregory Brown
September 9, 1953 -
Greg was a Rochester, MI. homeboy. He loved his town and his lifelong friends there. He had so many funny stories about growing up there with his nutty friends. You could hear his stories a hundred times and still want to hear them again. He was smart. So smart, he could easily have been a dentist or a doctor but chose instead to work with his dad, Harold, in tool and die. Of course he was brilliant. He went on to work at GM for 18 years. He loved it. He was often frustrated by it but always striving to make things better. His co workers loved and respected him. He spent 31 years married to the love of his life, Nancy. They never spent more than a day apart in all that time. His greatest role in life was that of dad to Chrissy, Sean, and Kyle. He loved them more than life itself. Everything he did was for them, from selling his motorcycle when Chrissy was born, to buying baby stuff, to working two jobs to pay for Catholic schools for them. But he never complained. They are the best kids ever. He was so proud of them! He was a wonderful son and brother and a loyal friend to all who knew him. He was a fighter. He fought cancer much of his adult life-meeting every challenge with resolve and courage. What courage. Never losing his sense of humor - never giving in to fear. He fought fear with knowledge. He was more than smart. He was wise, caring, compassionate, loyal, devoted, sweet, dynamic, and unique. He loved rock and roll and Nat King Cole. He could fix anything. He loved cars, history, economics, and biology. He was so smart. I miss him. We all do. The world was a better place when he was here.

I hope this letter finds you well.
I hope your spirit is sailing on this boat.
I hope to see you soon, my love.
Nancy, Chrissy, Sean, Kyle, Madeleine, and James


Joanna Somerville
Young, spirited, loving mother and wife, Joanna was a Medical professional and graduate of University of Michigan. She died at 36 years of adenocarcinoma of common bile duct, a very rare cancer. She was taken away from 2 children, 3 and 9 years old…in one year. She loved the water and sailing…blessings on your journey with Maire.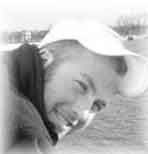 Brett Matthew Johnston
Passed away March 5, 2009
In January 2009, Brett was complaining about a bump in his hip, we all thought it was a hernia. When he went to the doctor to get it checked out, they realized it was not what we thought. A cat scan revealed an unusual lymph node which was thought to be Lymphoma. He had to get surgery on his hip to remove part of the bump and so the doctors could take a biopsy. After the surgery he had to use a cane to walk with since his body never seemed to recover from it. After some more scans they revealed that the cancer had spread to both lungs.

On February 6th, 2009 Brett was diagnosed with Rhabdomyosarcoma, he was only 25 years old. Here is an excerpt from Brett's carepage in his own words..."Met with Dr. Chugh at U of M. She confirmed that the sarcoma I have is an aggressive and fast moving cancer. It is currently in both lungs and groin lymph nodes. I will have a testicular ultra sound on Friday as well. Just before that ultra sound I will have a port implanted in my chest. Next Monday I will visit the Doctor, get training on my new port and then have 7 hours of chemo. A travel bag will be attached that will continue to administer drugs for another 72 hours. I will do this every 3 weeks and they expect that I could be in chemo therapy for 6 months to one year. Surgery is the best way to remove this type of cancer but because this has spread, that is not the best option right now - they have to go after all of it with aggressive chemo. They have a team of sarcoma specialists that meet every Wednesday night to discuss the cases. This includes the pathologists, nurses and doctors. If they feel I can get better care somewhere else they will refer me to them. Right now they do not know of any clinical research they can send me to which would be my best bet for finding a cure. It is pretty rare for someone 25 to have this type of cancer which is already a rare form of cancer anyway.

We figure that I'm 25 with 25% survival rate so our mantra will be 25 to survive. We will fight this thing and will win. Join me in my journey. They say the squeaky wheel gets oiled. Let's all squeak loud and often so the Big Guy in the sky answers our prayers. Love to all of you.."

Little did we know what was ahead of us. After Brett's first chemo treatment he seemed to get worse and worse. His breathing sounded like someone drowning in water he was always having a hard time walking because he had to use his cane to get around. There was something special about Brett, no matter what he had the most positive attitude, even when the doctor's didn't give him a chance, even when his health was at his worst, he always stayed true to who he was. The tumors where causing Brett's lungs to fill with fluid, so we had to take him into the hospital to get his lungs drained. This is done by sticking a needle into the back and accessing the lung to drain it (not so pleasant). Brett's smile after his lungs were drained was something we all needed to see, the amount of relief it gave him was like taking an elephant of his back. Brett had to go in multiple times to get his lungs drained. The fluid seemed to build up more frequently every time he did it.

Eventually it caught up with him. Brett was in the hospital overnight trying to get his lungs drained and get his body back in order when it happened. He had such a hard time breathing they had to put all sorts of oxygen masks on him, his breathing got worse and worse so they had to knock him out and put a breathing tube down his throat. Brett was then put in ICU that night.

For the next week Brett stayed unconscious with a feeding and breathing tube down his throat. The tumors were growing so fast the doctors did not know what to do. They had to keep him unconscious because of the amount of pain his body was going through. They had to do multiple minor surgeries or "fix-up" while he was in ICU. One night in the ICU I was putting some "special" holy water and saying a prayer to Brett while I stayed the night with him. While I was doing this a tear ran down his face when I was saying some things to him. The doctor says he was unconscious and was completely unaware of what I was saying, but

I believe in my heart that he knew...

After a week in ICU, the doctors had to tell Brett's parents the harsh truth... That he was not going to make it through this. His parents had to make the hardest decision of their lives and accept what the doctors told them. That night we sat around Brett all holding part of his body. Seemed as if timed stopped and we were all in some cruel nightmare while Brett took his last breaths.

On March 5th, 2009, less than a month after being diagnosed with cancer, Brett Johnston passed away at the age of 25. He was a pure inspiration to so many people. His attitude about life and everything it meant was absolutely astonishing,

it is unfortunate that not another person will be blessed with his presence. - Cory Allen

Cassie Adele Hines
October 4, 1990 - March 1, 2012
Cassie was diagnosed with a rare form of kidney cancer in March 2008. She was a high school junior, an honor student and two sport athlete with a zest for life. Her warm smile and welcoming personality were contagious. It wasn't long into her four year battle that she was very aware that there was no cure for her deadly disease. She had the ability to live everyday all the way to the end and she did that well. Cassie was an inspiration to many; she lived her life with no regrets and faced her death with dignity and grace. At 21 years old, our little MSU Spartan walked through Heaven's gates with a giant smile on her face and a wish that we would all live life fully until we meet again.

Her words to live by: "Don't take the easy road...take risks."