This 200-page book with photos is available now. Scroll down to see how to order to order your copy today.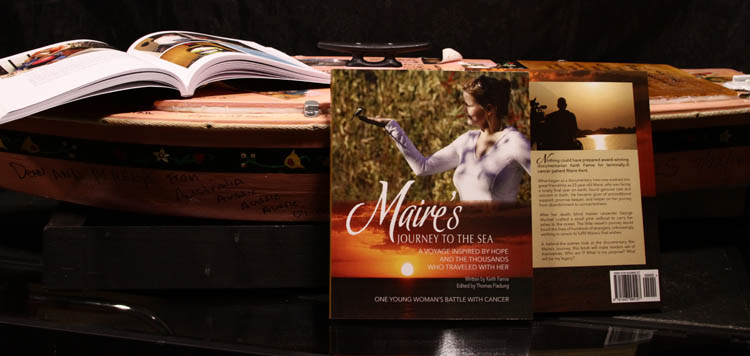 Amazon Store(unsigned copy)
• Maire's Journey to the Sea (color)
• Maire's Journey to the Sea (b/w)

To order a personalized copy of the book from author Keith Famie, print out this form and follow the instructions.

A portion of the book sales will go to the Maire Kent Memorial Fund for Sarcoma and Cardiac Tumor Research at the University of Michigan.
http://mairesjourney.com/support.html
"Maire's Journey to the Sea" By Keith Famie
People die from cancer every day. This year, almost 600,000 people will die from cancer. Next year, another 600,000 will die. The grim toll drones on. Maire Kent, a 24-year-old woman with a hard life behind her and seemingly brighter days ahead, died from cancer. But the last year of Maire's life was anything but common. A chance meeting with documentary filmmaker Keith Famie – one of the original celebrity chefs and star of the second season of "Survivor" – leads to meetings with celebrities like Kenny Chesney and David Spade, mystical experiences at a conference dedicated to the afterlife, an emotional encounter with a Holocaust survivor and, finally, a promise that Keith vows to keep: that after her death, Maire's ashes will make a journey to the sea, in a small sailboat built by a blind carpenter.

That journey begins in rural western Michigan, where much of the book is set, and continues for 1,400 miles, to the New York City harbor. Dozens of strangers along the way volunteer to help the boat complete its journey, as Keith and his film crew capture the moments for an upcoming documentary. Thousands more were touched by this voyage, through social media, newspapers and TV news shows that picked up on the story of the little boat floating by.

That film documentary will tell the story of the boat's journey, inspired by and closely mimicking the children's book "Paddle to the Sea," one of Maire's favorites. Keith's book tells so much more – Maire's hardscrabble life with religious zealots for parents and an ill-fated stint in the military; the diagnosis of a rare cancer of the heart and the battle waged by University of Michigan Hospital doctors before it became apparent that the cancer was Maire's death sentence; how a man in his mid-50s, after a chance encounter with this young woman, made it his mission in life to give her a better end of life; and the struggle to get Maire's ashes to the sea, as a promise made to a dying young woman becomes an obsession for Keith.

Keith sets out to pack Maire's last days with fun, interesting and enriching experiences that a young woman from a small Michigan town would otherwise never have. But along the way, Keith finds that it is his life that is enriched. He watches in amazement as Maire, seemingly without trying, touches and changes others' lives. He comes to a deeper appreciation of the connections we all share – cancer being one of those connections. And Keith, admittedly not a practitioner of organized religion, delves into deeply spiritual issues, including one of our great mysteries: After we die and are gone, do we somehow live on and continue to touch others?

The book "Maire's Journey to the Sea" will resonate with the thousands of readers who have been touched by cancer, either through their own battles or the suffering of loved ones. Ultimately, this is a book of hope and triumph. It will resonate with every reader who still believes that simple acts of kindness can be profound and that the essential goodness of people lives on.